Sports Premium Funding Questionnaire
To help us achieve our aims, and determine how we spend funding, we would very much appreciate feedback from parents. This is an opportunity for you to comment on the current PE provision at our school. This applies to both PE that is taught in the school day, after-school sport provision and competitive fixtures or events against other schools. We would welcome positive feedback as well as areas for further development.
Sport Premium
The Government has provided additional funding to provide new, substantial primary school sport funding in order to improve the provision of physical education and sport in primary schools. This funding is being jointly provided by the Departments for Education, Health and Culture, Media and Sport, and will see money going directly to schools to be spent on improving the quality of sport and PE for all their children.
This funding is ring-fenced and therefore can only be spent on provision for PE and sport in schools. We are held accountable for how we have used the additional funding to support pupils progress and participation in PE and school sport. We are required to publish on-line information about how we have used the additional funding, including details about our sporting provision alongside curriculum details. This will ensure that parents/carers and others are made fully aware of the PE and sporting provision at St. Andrew's.
Aims and objectives for 2018 - 2019
Sports Premium Funding for 2018 - 2019
Sports Premium Funding for 2018 - 2019
Our Key Objectives for 2018 - 2019
Development Plan 2018 - 2019
Reporting on National Curriculum Requirements for Swimming 2017-2018

Sport and Physical Education
The school addresses the National Curriculum requirements for PE exceptionally well. All pupils undertake gymnastics, dance, games, athletics, swimming and outdoor adventurous activities following the Devon PEDPASS Schemes of work. We have an outdoor adventure assault course, trim trail and climbing apparatus as well as extensive grounds for orienteering, muddy day and Forest School. We make full use of our sports field and two playgrounds. We also have a heated outdoor swimming pool which is used by all classes from April to October.
We have links to Tavistock College, University College St Mark and St John, Plymouth Argyle Football, Plymouth Albion Rugby, Tavistock Athletic Club and Plymouth Marjon Hockey. Qualified coaches and students support our school taking skills sessions and after-school sports clubs. All coaches and staff have the overarching aim to develop in students a broad base of knowledge, skills and critical understanding in the context of sports coaching, teaching physical education and sport development and leadership. Older children in the school use these skills to establish their own sports clubs for younger pupils during lunch times.
During lunchtimes we also operate Huff and Puff which is a playground scheme that aims to improve health-related fitness, giving the children a further opportunity to experience an active lifestyle during school. It focuses on many skills such as throwing, catching, hand eye co-ordination, balance, co-operation, trust and team work.
In school there is a wide range of equipment available for the children to use, e.g. space hopper, table tennis, basket ball, a variety of bats and balls and much, much more!
Children in Years 5 and 6 have residential visits each year and Year 4 experience an outdoor, adventurous residential break. We actively promote co-operation and teamwork as well as personal enjoyment of physical activity on all residential visits.
We are passionate about sport and there is a strong tradition of sporting success at St Andrew's, which has been recognised at local and regional level. We are able to offer a wealth of sporting
opportunities above and beyond those that are statutory.
Whilst we teach swimming in our own pool during the warmer months, we also arrange deep water swimming taught by specialist coaches to Year 5 pupils at Meadowlands Swimming Pool in Tavistock and closely supervised by lifeguards.
The school takes part regularly in a variety of intra-school activities such as sports day, swimming gala and challenge afternoons, inter-school competitions against other schools locally and regionally.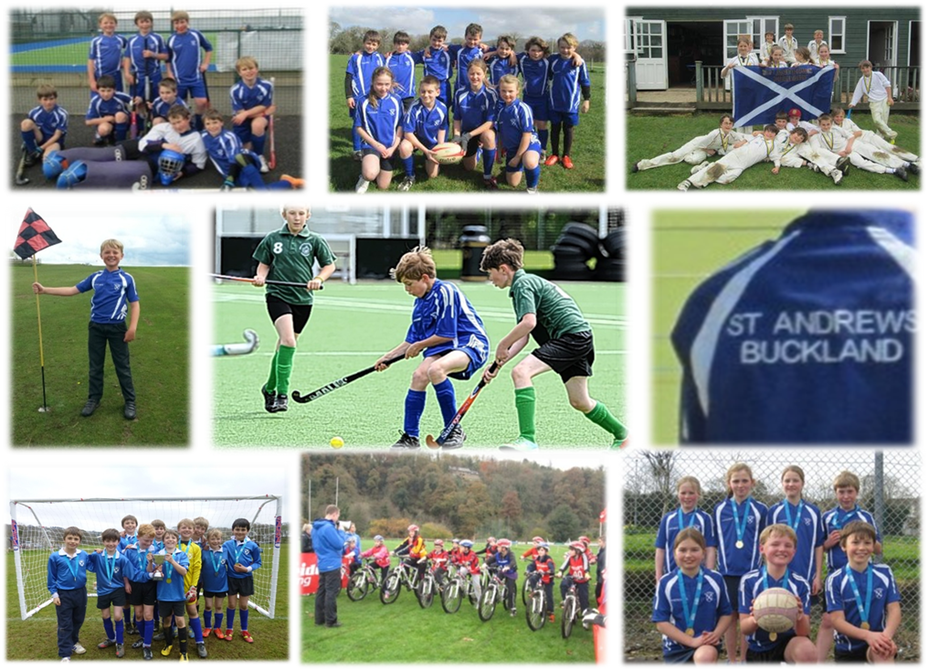 A squad of hockey and cricket players from St. Andrew's travelled to Lithuania to participate in our European project called SHAPE.
Find out more by clicking on the link.